AP INTEGRATION WITH PRONTO XI
Accelerate accounts payable efficiencies with invoice process automation into Pronto.
As an Authorised Pronto Solution Partner, FileBound can deliver document and workflow automation that improves the operation of any organisation by connecting users with the information they need to work more efficiently and effectively.
Pronto customers can use FileBound to automatically extract invoice data (significantly reducing data entry), route creditor invoices through a custom approval process and upload the approved invoice data directly into Pronto via the Pronto API.
Watch the video below to see how FileBound can streamline your AP Processing with Pronto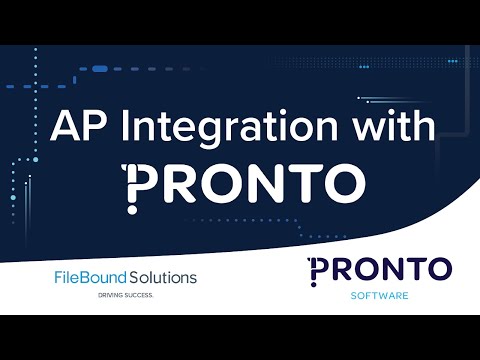 Benefits
Whether part of a broad ranging information management initiative or a localised project-based one, FileBound helps AP departments of all shapes and sizes redefine their AP process efficiency:
Invoice Approvals to ensure that invoices are paid on time with less effort. No more time spent passing paper around, matching invoices to PO's or other documentation.
Mobile – Secure Access enables flexibility for any Manager or selected business reviewer / approver to access invoices that are routed to them via their mobile device. FileBound delivers this user experience efficiently via all mobile browsers.
Increased visibility to make the right decisions to achieve project deadlines. Advanced analytics expose data about transaction volumes, financial liabilities and supplier interactions to identify areas for improvement.
Eliminate missing and duplicate invoices that lead to missed, late or duplicate payments. The result: happier suppliers, happier team members and fewer service calls.
Cut costs and delays associated with managing paper and electronic invoices. Invoices enter the FileBound solution quickly, are routed automatically, are accessible from anywhere, thus reducing the amount of labour needed to complete AP processing. Costs for moving, filing, securing and storing paper documents are also eliminated.
Free up valuable physical space by storing documents electronically.
If you would like to know more about FileBound's Pronto integration capabilities, please download the brochure here or contact us.
About Pronto
Pronto Software is an Australian developer of award-winning business management software. With in-built intelligence, powerful flexibility and an easy-to-use interface, our flagship ERP solution, Pronto Xi, delivers rich insights that help increase business efficiency, revenue and growth.
We listen to our customers, adapt our solution to their needs and finally reveal results that surpasses their expectations. This is why for over 40 years, Pronto Software has been the trusted IT partner of over 1,700 local and global businesses.